Make sure you stand out with your Disney Shirts for your entire family! As you can see from the customer photos below, Disney vacation trips are always cause for celebration. So don't get left behind – create your own Disney vacation trip t-shirts today!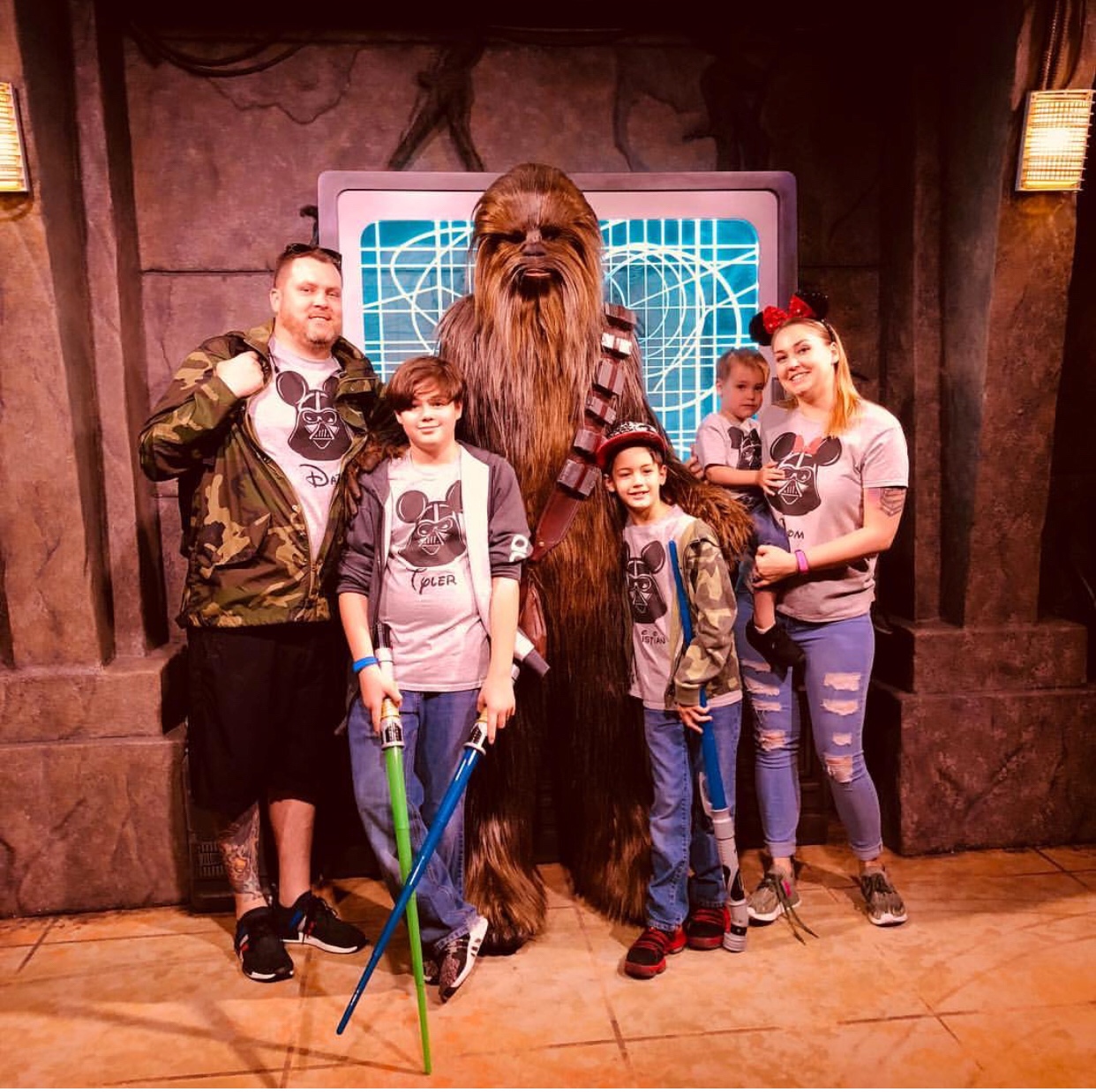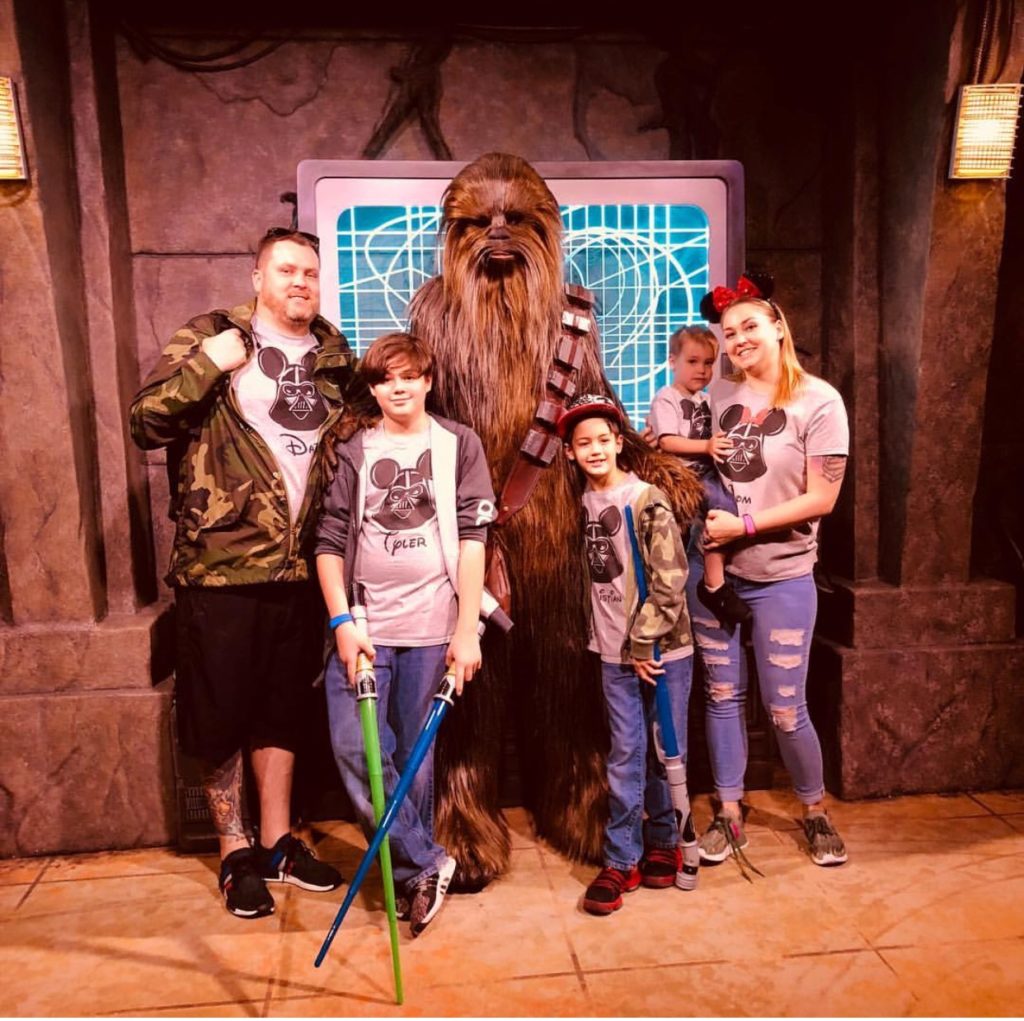 Family Disney Shirts
Family Disney Shirts. We screen printed Disney Store custom t-shirts. You can personalize your t-shirts with us. During this Disney Trip we printed a cool design for the entire group. We used a simulated process method to print out the t-shirts. If you don't know what simulated process is. Here is the explanation. Simulated process screen printing, commonly referred to as "sim process", is our preferred method for printing detailed, color intensive images with a lot of blending and gradients. Sim process screen printing can be used on either light or dark shirts.
At Stares Group we make all our t-shirts in house. In the video you will see one of our employees using a manual screen printing press to create the t-shirts. These t-shirts used all 6 stations to print them out. The tank tops that we used to print where all Next Level brands. Here are the style numbers and descriptions of the tanks.
Next Level Men's Cotton Tank 3633
Fabric:
4.3 oz., 100% combed ringspun cotton fine jersey, 32 singles
Fabric laundered for reduced shrinkage
Features:
Self-fabric neck binding
Tear-away label
Sideseamed
Sizes: XS-2XL
Next Level Ladies' Spandex Jersey Racerback Tank 6633

Features:
57% combed ringspun cotton, 38% polyester, 5% spandex jersey
4.3 oz.
40 singles for extreme softness
Fabric laundered for reduced shrinkage
Self-fabric binding
Tear-away label
Sideseamed
Sizes: XS-2XL
You can see how the Next Level Crew Neck 3600 on a previous video we made. This video gives you some insights of the t-shirt.
You can design your next Disney Trip T-Shirt on our website. There is a great online designer tool.
Stares Group online design takes no graphic design experience.
Upload your own logo or choose from our art gallery.
Create your own text design with our extensive font library.
View product detail and size info. https://staresgroup.com/design-online/
You can follow us on Facebook: https://www.facebook.com/staresgroup
Family Disney Shirts
Disney trips so interesting for your family is making customized family t-shirts. Having Disney shirts for your family to give everyone a coordinated look is super cool. If you're looking to stand out as you plan your vacation trip to Disney, one of the best things that you can do is to get customized t-shirts from Stares Group. Take a look at the custom photos displayed, and you would realize how great an idea this is.
Disney trips happen to be a time for so much celebration. There's no reason to get left out. Why not create vacation trip tees for the family to make an entrance that will get heads turning in your direction? Planning your family vacation is a time to get every member of the team excited. There is no better way to do it than embarking on Disney trips. Our custom t-shirts for Disney trips are the perfect idea that can help to create a great surprise for your family. What other way to amp up the excitement than to surprise them with custom Disney t-shirts of their favorite characters? This is absolutely the best way to reveal the secret Disney trip that you have got planned out. 
Custom Disney Shirts
We are a screen printing and embroidery company that specializes in making customized t-shirts as well as hats and apparel. We are specialists when it comes to a wide range of decorating methods to ensure that we bring your ideas to life. Quality is guaranteed when you get your Disney trips customized t-shirts produced by Stares Group. We have a passion for designing, creating, printing, and embroidery. We are waiting to hear from you.